The mission of the Wakatomika Youth Preaching Camp is to enable and encourage young men to "Preach the Word!" This camp is for boys 13-19.
Camp dates for 2024 season to be announced.
For additional information on what to bring to camp, please see our FAQ page.
Visit GAP's Facebook page or contact us for additional information related to GAP Youth Preaching Ministries.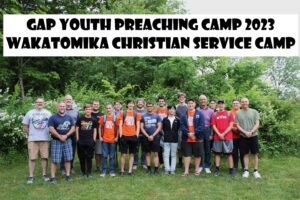 Dean Jackson
The G.A.P. Youth Preaching Camp is an annual, week-long camp focused on training teenaged, young men how to study the Bible, and how to prepare and deliver sermons. The young men who attend this week of camp will be taught by preachers how to study the Bible (hermeneutics), how to develop and create a sermon (homiletics), how to speak in public, and many other aspects of preaching God's Word. On Wednesday evening, each of the young men will attend the services of a local congregation where he will deliver the sermon he has prepared while at camp. The week is filled with fellowship with brothers in Christ, challenges as we learn and grow in Christ, and encouragement to be the men God has created us to be!